PIPILOTTI RIST – PARASIMPATICO
a solo show produced by Fondazione Nicola Trussardi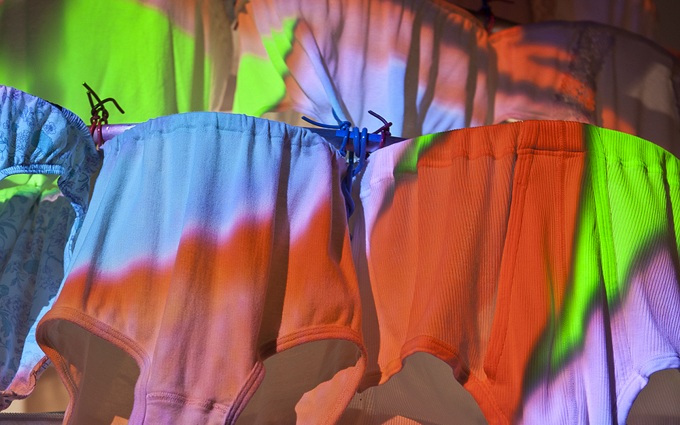 From 9 November to 18 December 2011, the Fondazione Nicola Trussardi is presenting Parasimpatico, curated by Massimiliano Gioni, the first major solo exhibition by Pipilotti Rist in Italy.
The setting for the Swiss artist's new project is the former Cinema Manzoni, which for over fifty years was one of the most important movie theaters in Milan, and has been closed to the public since 2006.
Pipilotti Rist is one of the most highly respected, unconventional voices in art today: she has had solo shows in the world's best-known museums—including MoMA in New York and Centre Pompidou in Paris—and has participated in major international events such as the Venice Biennale and the biennials of Berlin, Sydney and Lyon. In 2009 she presented her first feature-length film, Pepperminta, at the Venice Film Festival.
Floating visions, vibrant, psychedelic colors, hypnotic soundtracks, sensuality and ethereality are some of the main ingredients in the world of Pipilotti Rist, which lies at the border between dreams and reality. Her luxuriant videos and multimedia installations explore human sexuality and media culture with a playful, provocative blend of fantasy and everyday life, with images in movement transforming familiar subjects, themes and places into fascinating kaleidoscopes.
For Pipilotti Rist, video images are a projection of desires and emotions, a new form of organic life that viewers can perceive not just with their eyes but with their bodies. Often hidden in unexpected places—toilets, liquor bottles, seashells and handbags—or projected onto evocative surfaces—church ceilings or giant television screens—her installations are explorations of the senses, all-enveloping experiences in which all physical and psychological distance from the viewer is abolished. In Rist's visual journeys, viewers often find themselves in spaces with topsy-turvy proportions, reduced to Lilliputian scale before giant images that heighten the sensation of childhood memories of a pure world, where corporeality seems reconciled with rationality and where sensuality takes on an almost spiritual dimension, sometimes tinged with irony and melancholy.
The gateway into Pipilotti Rist's work is our emotional side, the part of us that reacts involuntarily to external stimuli. This observation inspired the title for her show with the Fondazione Nicola Trussardi, Parasimpatico: with her usual sense of humor, Pipilotti Rist is referring to the division of the nervous system that governs the body's involuntary functions, such as digestion, relaxation, rest and energy storage.
Like her previous installations, this project conceived for the former Cinema Manzoni combines old and new work, with the objective of transforming the former theater into a huge living creature, mingling cinema and television, hallucinations and high-definition images. In Parasimpatico, Pipilotti Rist wraps the sumptuously decorated spaces of the Manzoni—from the lobby to the grand staircase, and from the auditorium to the bar—in a new skin of images, an all-enveloping carousel of sound, light, and color that restores a joyous magic to what was once Milan's most prestigious movie theater, in a final flutter of life before its definitive transformation. This exhibition by Pipilotti Rist will be a unique opportunity to see the spaces of the former Cinema Manzoni in their original beauty, after five years of closure.
Designed by architect Alziro Bergonzo and opened in 1950, the Cinema Manzoni is part of a stately edifice conceived to house shops and commercial venues on Via Manzoni, in the heart of Milan. With a surface area of over 5000 square meters, richly decorated and frescoed, an enormous 1400-seat auditorium, and showing only first-run films, the Manzoni immediately came to be seen as the most elegant movie theater in the city, and was used as a location for important films such as Michelangelo Antonioni's Story of a Love Affair (1950) and The Lady Without Camelias (1952). In 1955 it became the first movie theater in Italy, and the third in the world, to introduce Cinerama, an innovative three-screen panoramic projection system. These unique features made the Cinema Manzoni one of the most remarkable movie theaters in Milan and in the entire country for over fifty years, until it definitively closed on 25 September 2006.
With Parasimpatico, the Fondazione Nicola Trussardi continues its nomadic exploration of Milan, rediscovering forgotten places and hidden treasures in the heart of the city and bringing them back to life through contemporary art. After major solo shows by Michael Elmgreen & Ingar Dragset, Darren Almond, Maurizio Cattelan, John Bock, Urs Fischer, Anri Sala, Paola Pivi, Martin Creed, Pawel Althamer, Peter Fischli and David Weiss, Tino Sehgal, Tacita Dean, and Paul McCarthy, the Fondazione Nicola Trussardi is now proud to present this new large-scale project by Pipilotti Rist, as part of the calendar of events organized throughout 2011 to celebrate the centennial of Trussardi Group.
BRIEF BIO
Elisabeth Charlotte Rist was born in Grabs, Switzerland in 1962. She lives and works in Zurich and Sommerset.
As a child, she decided to adopt the unconventional name Pipilotti, which combines Lotti, a nickname for Charlotte, with Pippi Longstocking, the Astrid Lindgren's character with whom she strongly identified.
After studying applied arts, illustration, photography and visual communication in Vienna and Basel, and founding the all-female rock band Les Reines Prochaines, with whom she created albums, concerts, videos and live performances, Pipilotti Rist undertook the artistic career that has led her to exhibit in the world's most important museums.
Nominated for the New York Guggenheim's Hugo Boss Prize in 1998, in 2009 she won the Joan Miró Prize, organized by Fundació Joan Miró in Barcelona.
Her videos and installations have been exhibited in solo shows at some of the world's leading art institutions, including Hayward Gallery in London (2011), the Museum of Contemporary Art in Tokyo and Fundació Joan Miró in Barcelona (2010), KIASMA in Helsinki (2009), the Museum of Modern Art in New York (2008), Centre Georges Pompidou in Paris (2007) and Museo Nacional de Arte Reina Sofía in Madrid (2001). She has participated in prestigious contemporary art events such as the Venice Biennale (2011, 1999, 2005, 1997, 1993), the Biennale of Sydney (2008, 2000), the Istanbul Biennial (2007, 1999, 1997), the Moscow Biennale (2007), the Shanghai Biennale (2002), the Berlin Biennial (1998), the Biennale de Lyon (1997) and the São Paulo Biennial (1994).
In 2009 she made her first full-length film, Pepperminta, presented the same year at the Venice Film Festival, the Seville European Film Festival, the Miami International Film Festival, the International Film Festival Rotterdam , and in 2010 at the Sundance Film Festival.
Tag:
videoarte